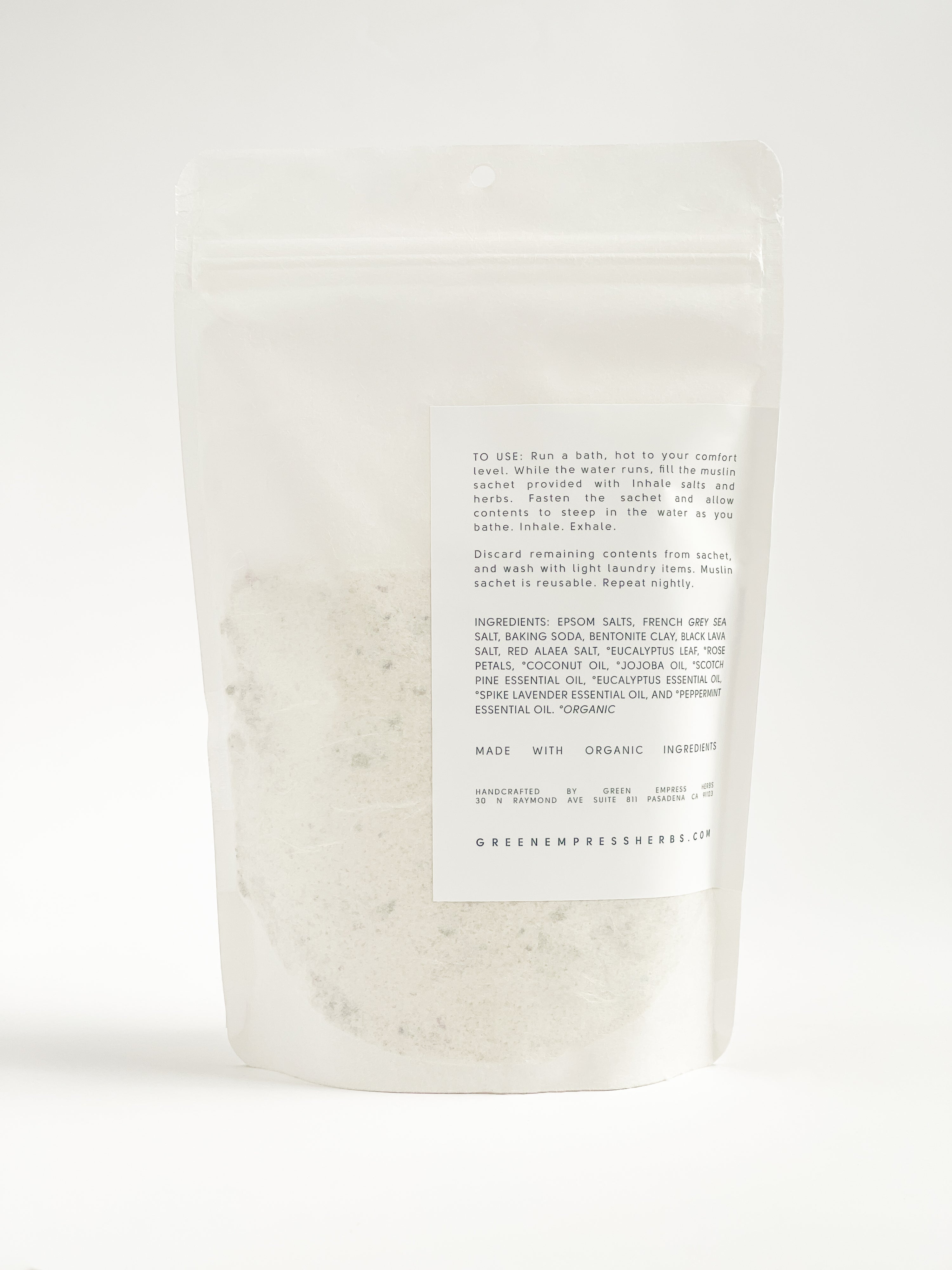 I N H A L E Clearing Herbal Bath Salts
Description
Directions
Ingredients
I N H A L E  Clearing Herbal Bath Salts take all of the guess work out of nourishing self care when you are feeling run down. Our herbal salt, clay and essential oil blend works to nourish, detoxify and calm your body while refreshing and opening the sinuses and senses for deep relief from congestion, fatigue and an overload of toxins. 

Run a bath, hot to your comfort level. While the water fills, fill one of the muslin bags provided with 1-2 cups of Inhale salts and herbs. Fasten the bag and allow the package to steep in the water as you bathe. Enjoy full, deep breathing as you relax. Empty any of the bag's remains into the trash and wash with light laundry items. Muslin bag is reusable. Repeat nightly.
Epsom Salts, French Grey Sea Salt, Baking Soda, Bentonite Clay, Black Lava Salt, Red Alaea Salt, °Eucalyptus leaf, °Rose Petals, °Coconut Oil, °Jojoba Oil, °Scotch Pine essential oil, °Eucalyptus essential oil, °Spike Lavender essential oil, and °Peppermint essential oil
° Organic
I N H A L E Clearing Herbal Bath Salts
FAQ
Will I N H A L E Clearing Herbal Bath Salts interfere with any medications I am taking?
If used as directed, the essential oils included in this product are unlikely to cause any significant adverse reaction. Until laboratory investigations into possible reactions between essential oils and other drugs have been carried out, it is possible only to surmise what may happen. Out of an abundance of caution, avoid I N H A L E Clearing Herbal Bath Salts when preparing for anesthesia or taking sedatives
How often should I use I N H A L E Clearing Herbal Bath Salts?
Repeat nightly while symptoms persist or to support deep relaxation and reparative sleep.
Can I use I N H A L E Clearing Herbal Bath Salts while pregnant or breastfeeding?
Much of what we know about using essential oils during pregnancy has come from an educated understanding of aromatherapy, natural occurrences, and a handful of case studies. It is recommended to avoid essential oils during the first trimester and throughout difficult pregnancies. Do not take internally, do not use undiluted on the skin. Use essential oils infrequently and sparingly. Please consult your OBGYN and/or aromatherapist if you are unsure. While safe during pregnancy, I N H A L E Clearing Herbal Bath Salts are not recommended while breastfeeding as it contains Peppermint essential oil.
Are there any common allergens in I N H A L E Clearing Herbal Bath Salts?
I N H A L E Clearing Herbal Bath Salts does not contain any recognized skin irritants or allergens. Always patch test new products before the first use. Rinse with soap and water and discontinue should irritation occur. Do not apply to mucus membranes.
Shipping
Fast shipping
We offer the shipping services of UPS, U.S. Postal Service (USPS), FedEx and DHL to accommodate all domestic and global shipping.
Order tracking
You will be given a shipping notice with a tracking number via email the moment your shipping label is printed.
Handling
Every effort is made to process and ship within 24 hours, Monday - Friday and Saturday morning. Orders received after 12 noon PST will be shipped the next business day.
All packages ship from Pasadena, California.